Arena 20th Anniversary DVD Out Soon!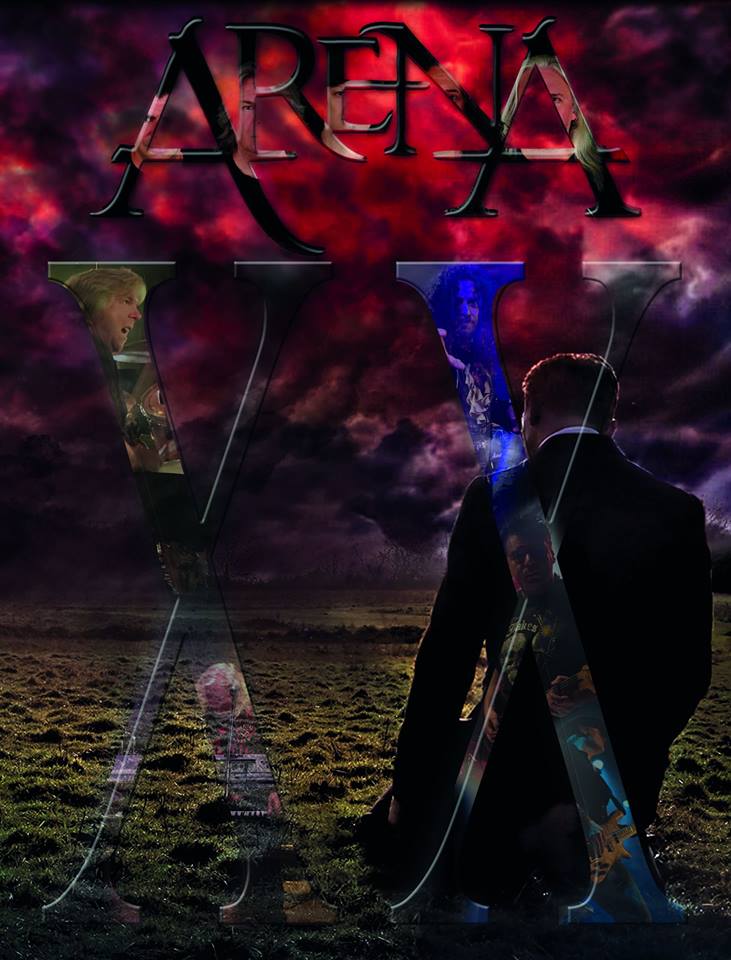 The release date of the long awaited Arena 20th anniversary DVD has been confirmed! The jubilee show, recorded in April 2015 in Poland, will be released in February 2016 by Metal Mind Productions. "We're very excited about this new release as it captures the vibe of the anniversary tour and represents 20 years of Arena", says Clive.
Metal Mind: "Material entitled "XX" was recorded during the Polish leg of "20th Anniversary Tour - The Unquiet Sky", shortly after the release of their 8th studio masterpiece "The Unquiet Sky". The band once more graced their Polish fans with an outstanding show, this time at Katowice Kinoteatr Rialto. New release is a veritable feast for all prog-rock fans! More than two hours of darkly sublime beauty, interviews with Clive Nolan and Mick Pointer and more! "XX" is scheduled for a worldwide release on February, 12th 2016 via Metal Mind Productions. Also available as a double-CD release."
More about Arena HERE


Pendragon 'The Masquerade Overture' Tour!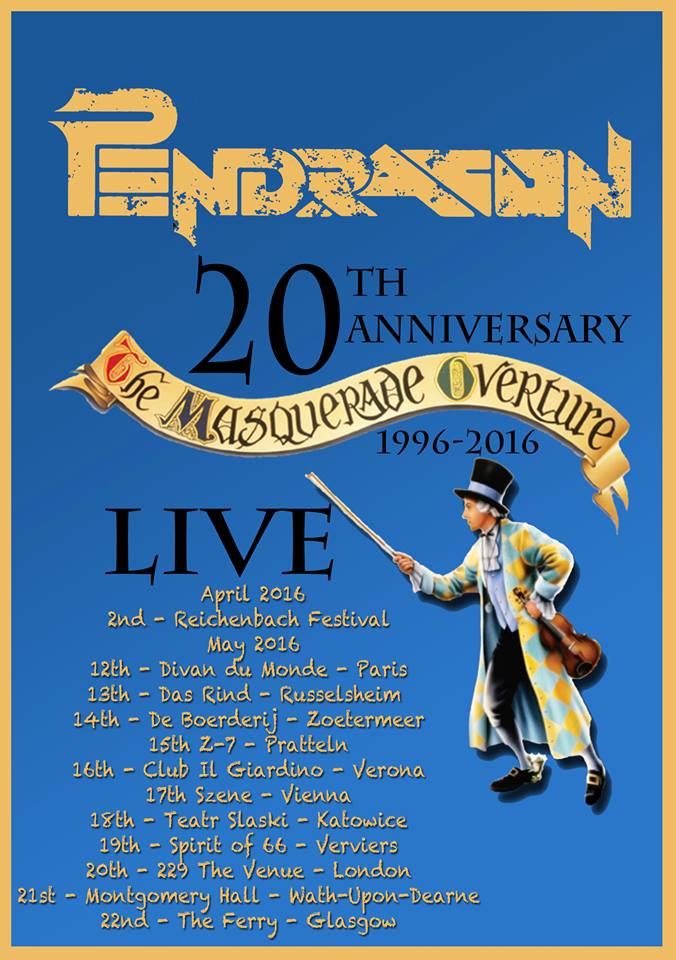 Pendragon has announced the dates for the forthcoming 'Masquerade Overture' 20th anniversary tour. "It's only a little tour, but 'The Masquerade Overture' is 20 years old and we want every show to be a big celebration!", says Nick Barrett. The tour will consist of 12 shows performed in major European cities including Paris, Zoetermeer, London, Katowice and more. The tour will kick off in April with a single concert at the festival in Reichenbach, Germany and will continue throughout May 2016. Additionally, the show at the Wyspianski Theatre in Katowice, Poland will be recorded for DVD by Metal Mind Productions. Tickets for all shows are available now!
Clive: "I really look forward to the tour and taking my place behind the keyboards again. The end of 2015 turned out to be rather difficult and trying due to health problems... and thus the prospect of being back in my 'normal' shoes live on stage seems a particularly joyful one. Hope to see many of you out there and to have a chance to chat and enjoy the tour with you!"
Health Battle Continues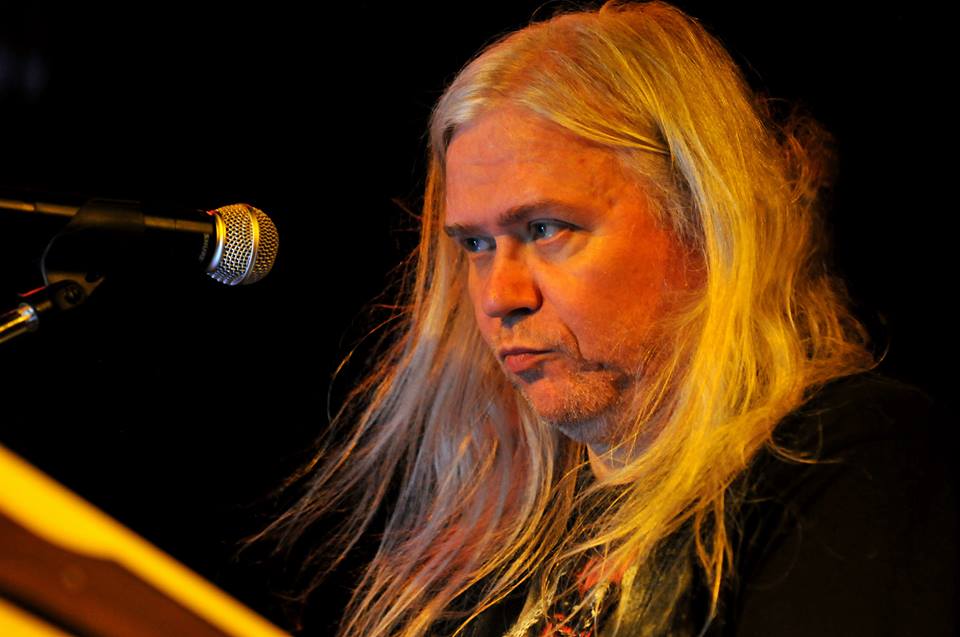 After failure of two emergency retinal detachment surgeries, last Sunday Clive was forced to undergo another eye operation. He is now back home recovering from the most difficult one so far. Hopefully, this is the final stage of the procedure and we will soon see Maestro regain his health and return to his usual musical activities. Fingers crossed and we continue to send messages of support and wishes of swift recovery!
Clive: "It seems that fate is against me! I have been rushed back into hospital for a third emergency operation on the eye! It is clear that I was not free of the problem after all - it's not the disappointment that hurts, it's the hope! My state of mind is currently dwelling somewhere between depression and anger! So, it's back to the prison of the green wrist band and a semi twilight world. I'm sorry I wasted all your wonderful optimism and congratulatory messages, but like it or not I'm back to square one! The adventure/nightmare continues..."
More 'She' Dates Confirmed!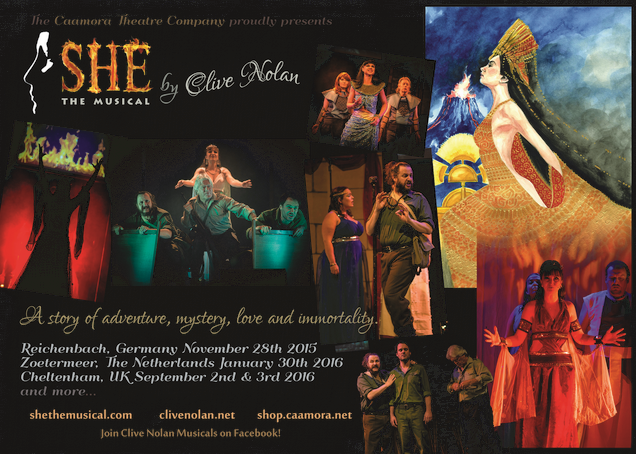 More dates have been set for Clive Nolan's first musical, 'She'. On January 30th 2016 the concert version of 'She' will be performed at the famous Cultuurpodium Boerderij in Zoetermeer, Holland. Subsequently, 'She' in its theatrical version will return to the Cheltenham Playhouse on September 2nd and 3rd. Watch out for further announcements!
Clive: "It is very nice to know that the life span of my musical 'She' has exceeded my expectations. With the German show immanent and then a trip to Holland and another production in Cheltenham next year, there is plenty left to do with this show. Each time it is performed, it develops a little more, and I am happy to see how this show has matured over the years. I look forward to the continued 'future' of 'She'.
Poster by Claudio Momberg with photos by Graham Stead, the Queen by Mark Buckingham.
More about 'She' HERE
Full Cast Revealed for the Show in Germany!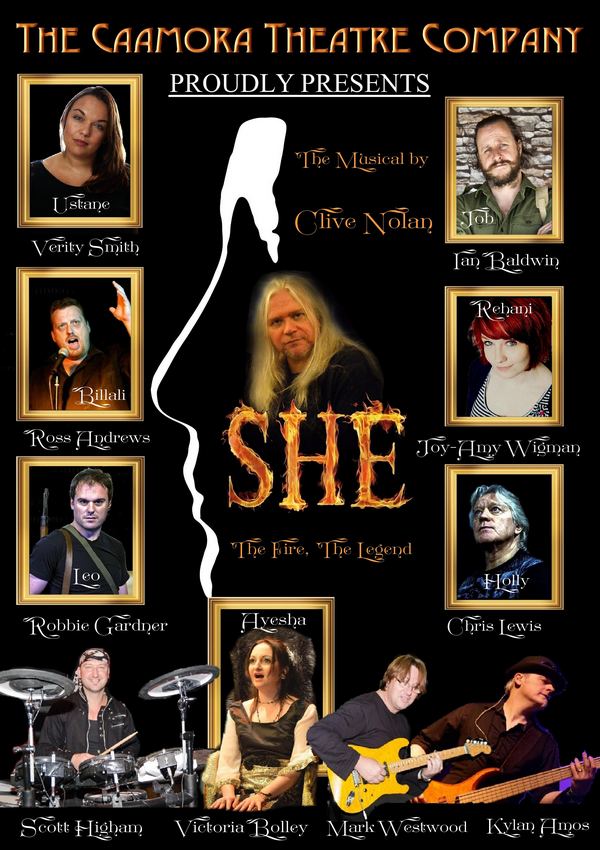 On November 28th the Caamora Theatre Company will perform Clive Nolan's first musical 'She' at the Neuberinhaus Theatre in Reichenbach, Germany. The concert version of 'She' will feature the singers: Victoria Bolley (Ayesha), Robbie Gardner (Leo), Verity Smith (Ustane), Chris Lewis (Holly), Ian Baldwin (Job), Ross Andrews (Billali) and Joy-Amy Wigman (Rehani); the instrumentalists: Clive Nolan (keyboard), Mark Westwood (guitars), Kylan Amos (bass) and Scott Higham (drums); and the chorus including Ollie West, Ron Milsom, Alex White and Emily Frechter.
We sincerely hope that Clive, who is currently recovering after two emergency eye operations, will be able to take part in the 'She' show next week. The preparations for what will hopefully be Clive's first public appearance since September are now in full swing... For the Caamora Theatre Company, the show in Germany will be a very special way to conclude what has been a very eventful year. Don't miss it!
Fingers crossed, Clive!
More about 'She' HERE