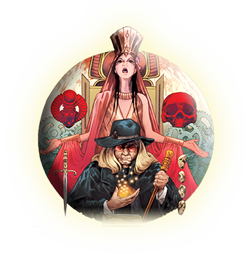 We are pleased to offer an additional attraction to make 'The Fire and the Quest' an even more exciting experience. The Ghost Walk will take place on Friday, September 4th from 11 pm to 2 am. During this exciting 3-hour-long tour through the secret nooks and corners of the haunted Cheltenham Playhouse Theatre, we will learn about the history and all the mysteries of the old theatre building. The tour will be guided by Ross Andrews, the Caamora Company excellent singer, the acclaimed TV presenter and the author of numerous books, including "Paranormal Cheltenham".
You think you know all about the Cheltenham Playhouse...? Join the Ghost Walk and find out! But... are you ready for it...?? ;)
The price of the Ghost Walk: £15 (NOT included in the price of Golden Tickets)
The number of tickets is limited (due to the theatre policy). The tour will take place with the minimum of 10 persons.