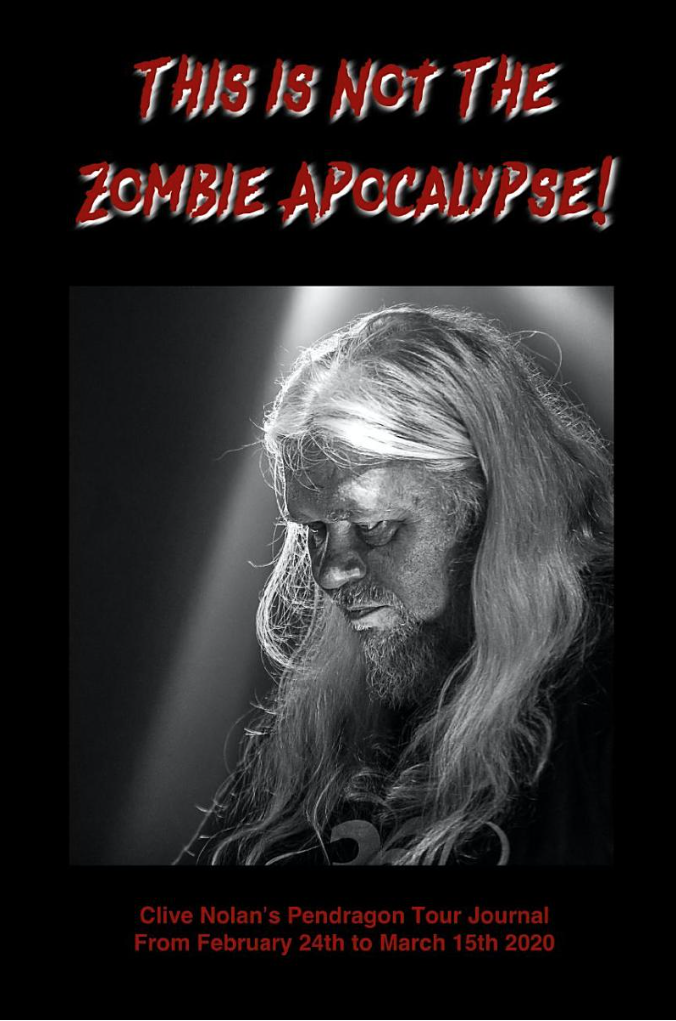 Clive has published his first book! "This Is Not The Zombie Apocalypse!" is a detailed and humorous account of the first half of Pendragon "Love Over Fear" tour, cancelled halfway through due to the growing threat from the Covid 19 spreading throughout the world. Clive exposes the secrets of the rock band's life on the tour bus. A highly entertaining writing from the multitalented musician.
Clive: "I'm very happy to announce the release of my first book! It's called 'This Is Not The Zombie Apocalypse', and it is now available through Amazon. The book is the account of the few first days of the Pendragon tour, before it got cancelled… If nothing else, you can find out everything about The Case of the Kidnapped Frog!" 😉
The book has right away gathered numerous positive reviews from the readers. To quote just a few:
Roger Kelly: "You don't have to be a progger to enjoy this. Clive Nolan is as talented
writer as he a pianist and creator of wonderful music. This is his account of life on
the road with top prog rock band Pendragon, as they venture around Europe wondering what next is in store for them as COVID-19 threatens to curtail all enjoyment on the planet. It's funny and it's sad. And also a great 'whodunnit' story as one of the band crew is kidnapped! Read it. You'll love it."
Ron Milsom: "If you want to experience the real world behind the glamour of showbiz,
you can do no better than read this book by the legendary Clive Nolan. An interesting
account of rock band Pendragon's abbreviated world tour during our current crisis.
Interesting, entertaining, informative and funny!"
You can purchase the book via Amazon HERE