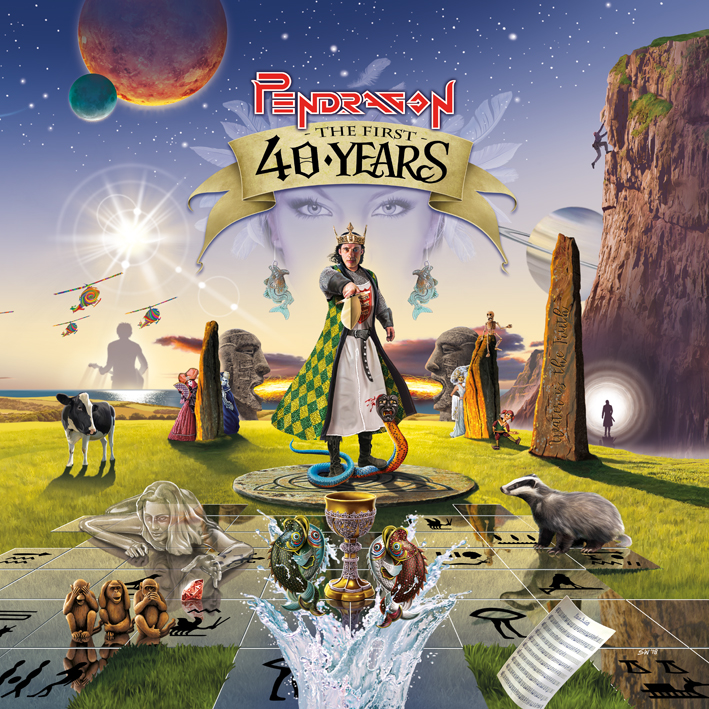 After selling out of the first run of a special collectors' edition commemorative 40th year anniversary Book and CD pack in a record time, the second pressing can now be pre-ordered from the Merch Desk!
Pendragon: "It's taken two years to collate, re-record, mix, find the pics, get new artwork (and a hundred other things). So, here is what you get:
Approximately 11inch square (just slightly smaller than a vinyl sleeve) this 32 page hard back book is truly a celebration of Pendragon from 1978 to the current day. Cover artwork from Simon Williams (The World/Window of Life/Masquerade Overture etc.) incorporating images throughout the history of the band in his very own recognisable style, inside there is 32 glossy pages of photo memories throughout the years and a few words from Nick, Peter, Clive and Vinnie and of course 5 CDs.
The discs are: "Live at London" 3 discs from last November's sold out 40th Anniversary show at 229 The Venue. The London show featured a return to the Pendragon drum stool for Nigel Harris to perform some of the early songs plus some saxophone from original and co-founding member Julian Baker. When mixing the live discs Karl Groom (Thin Ice Studio) said that this is one of the best recorded live gig atmospheres he's ever heard, and we think you'll agree that's it's really very special indeed.
Plus: 2 completely re-mixed (not just re-mastered!) versions of "The World" & "Men Who Climb Mountains", which more or less "bookends" the career of the band. Both re-mixes will feature re-recorded drums from current drummer Jan-Vincent Velazco as well as updated and additional keyboards on "The World" recording."
More about Pendragon
HERE
More about "The First 40 Years"
HERE
Buy "The First 40 Years"
HERE